new smile.
new life.
Dr. Kanupriya is making
the world a better place.
"One
SMILE

at a Time !"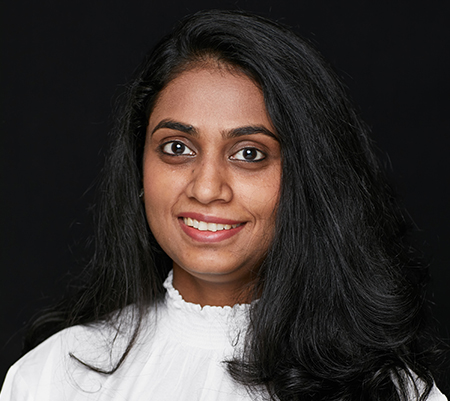 Dr. Kanupriya Kajaria Goyal did her graduation from KLES Institute of Dental Sciences and completed her internship from SDM College of Dental Sciences in 2009. Thereafter she obtained a postgraduate degree in Esthetics from the School of Dental Medicine, State University of New York, Buffalo. She also successfully completed her Clinical fellowship program in Advanced Prosthodontics from Rutgers, New Jersey. She is a certified implantologist from Biohorizons, USA and has also incorporated the use of laser in her practice and awarded with the prestigious Associate Fellowship of WCLI. She also holds a Diploma in Full Mouth Rehabilitation & Clinical Occlusion.

Dr. Kanupriya is committed to continuously update her knowledge and provide the leading edge of technology and best practices to her patients. She travels extensively, attending conferences and meeting top academicians and practitioners so that she is abreast of the latest developments in her field. She has successfully completed courses in Multidisciplinary Contemporary Implant Dentistry and Perio-Esthetics.
I Have known Kanupriya since she was a little girl and probably this was the reason why initially I always hesitated to see Her as my Dentist. For very long I was going to my old Dentist and I was very Sceptical to get treatment done by her and switch from my old dentist. However she is my daughter's dentist and I heard many praises abt Kanupriya being very calm and patient and makes even the most complicated root canal a joyride. She makes every person feel at ease and develops a comfort level of trust. So the day I met Kanupriya for myself in her clinic I was amazed to see her confidence and commitment to encourage me slowly and gradually making me comfortable that I have now finally got my full mouth full rehabilitation done and I am very happy with the results. Dr. Kanupriya has a very sturdy hand and I still go to her for my fillings and other tooth queries. My daughter now lives in Delhi, however still gets consultations done from Dr. Kanupriya. Now Dr. Kanupriya is our family Dentist. Thank you Kanupriya.
I have Been going Dr. Kanupriya for sometime now and I don't think I could have a more gentle, honest and informative dentist. What I also love about her - she keeps updating herself by attending workshops all over the country and providing new and advanced treatments to her patients.
I always visit Dr. Kanupriya whenever I visit kolkata. I have so far got cavity removal and cleaning done with her and been very happy with the service. She explains the entire process before getting started which put me at ease. She has a very gentle touch and makes sure that you are comfortable. I highly recommend her as the standard of care provided by here is at par internationally. I was very happy with the service and will continue visiting her whenever I am in the city.
Pains during pregnancy are the only pains I remember other than having periodic toothaches...Dental treatment has always been a nightmare for me..but you have made it a less terrifying experience with your skills and patience..thank you very much for being there always.
I was having huge dental problems and was very confused regarding who to visit, then I went to Kanupriya after being recommended. That day she did a full checkup and the experience I had was so nice....... She being so calm & her soft hands which is very much needed for dental treatments ........I fully trusted her and started my treatment and the whole process was soo comfortable. I always recommend her name whenever anyone has dental queries. Always stay happy and healthy Kanupriya. All the best lots of love.
See More
Address
Dr. Kanupriya Goyal Advanced Dentistry Krishna Building Room no. 109, 1st Floor 224 AJC Bose Road (Giani Showroom Building) Kolkata 700017
Thank You!
Ups! An error occured. Please try again later.